Being a working parent is tough. Somehow, wherever I am, I am always in the wrong place. When I run for the train at night I'm thinking of the 36,759 emails I still need to send, even though I'm determined to make it home in time for dinner. When I'm at work and barreling down a deadline I'm thinking of the kids getting picked up while mine are headed to aftercare and trying to ignore the pit in my stomach.
So when I get home I am often determined to make sure the time I have with my kids counts. "I'm here now!" I want to proclaim. "Let's have some Precious Time Together!" These "moments" are generally eaten up with battles over peas, cleaning up said peas, overflowing baths, and chasing around wet naked children as they streak through the house refusing to put on pajamas, let alone even think about winding down to go to sleep. Finally, with delicious clean-smelling hair (does anything smell better?) and a long-awaited sweet snuggle from the child who that very morning hissed "Stop!" as I tried to give him a kiss at school—in front of his cool kindergarten friends—we collapse in a heap. This is my Moment.
My go-to, hands down, to celebrate mama love even when you aren't physically there is Eileen Spinelli's When Mama Comes Home Tonight, which makes me cry—even on reading No. 6,753,865—about a mama who loves and reassures a child of all the things they'll do together when she gets home from work (battling over peas is omitted but I still love the story). For the nights I really want a lovey, drippy, I-love-you-more-than-you-could-ever-know-and-I'm-sorry-I-have-to-work-but-we-really-need-to-buy-food-and-heat story, here are my closest approximations:
When Mama Comes Home Tonight
It can be hard waiting for Mama to come home, but once she's there it's the best time of the day. This soothing, rhythmic book celebrates the precious rituals a mother and child perform together as they wind down to bedtime. It shows that when you share them with someone you love, even the most simple activities can be playful, relaxing, and intimate.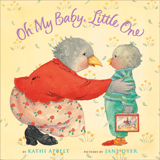 Oh My Baby, Little One
by Kathi Appelt
When Baby Bird says good-bye to his mama at school each morning, he feels sad. Mama Bird feels sad, too. Sometimes it's hard to be apart. But as Mama Bird says, the love they share is with them always, keeping them close until the best part of the day–when they are together again. From the illustrator of the bestselling Time for Bed, with more than 725,000 copies sold, a heartwarming story about the universal experience of parents and children being temporarily separated.
The Kissing Hand
by Audrey Penn
School is starting in the forest, but Chester Raccoon does not want to go. To help ease Chester's fears, Mrs. Raccoon shares a family secret called The Kissing Hand to give him the reassurance of her love any time his world feels a little scary. Since its first publication in 1993, this heartwarming book has become a children's classic that touches the lives of millions of children and their parents, especially at times of separation, whether starting school, entering daycare, going to camp. It is widely used by kindergarten teachers on the first day of school. Stickers at the back will help children and their parents keep their Kissing Hand alive.